About Empowering Mums | Personal & Group Coaching Services for Mums
Empowering Mums' Mission Statement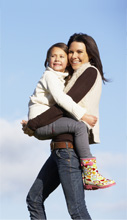 Empowering Mums enables mums to live their dreams and aspirations, to become confident, balanced, fulfilled and happy women. We work by supporting and encouraging mums to take control of their lives, make positive changes, fulfil their potential and live their lives to the full, achieving life-long ambitions and goals in all aspects of their life. All mums should remember that taking care of themselves has everything to do with being a good mum!
Empowering Mums brings support and understanding to mums who are struggling to cope with the everyday challenges posed by motherhood or are in search of a more fulfilling life. By utilising a range of proven techniques and exercises, and by exploring your personal situation, Empowering Mums will support you to develop the skills required to live a balanced, harmonious life, full of joy and contentment. Empowering Mums will inspire you to be the best mum and woman you can be by identifying and nurturing your true needs, ambitions, skills and talents.
Start your journey today – achieve confidence, balance and joy.