Empowering Mums | Online Coaching Options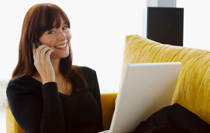 Empowering Mums Online provides a choice of coaching programmes based around our signature programme – Confidence, Balance and Joy. They are tailored to satisfy the needs of busy mums who find it difficult to commit to a set time in their schedule for face-to-face or telephone coaching sessions.
Our programme offers complete confidentiality and varying levels of access to suit your pocket, needs and your schedule - options available include self study, interactive online coaching and personal 1:1 coaching by telephone.
By logging on to a personalised online coaching programme at a time that suits your schedule, you can enjoy the flexibility of completing sessions, questions and exercises at a time most convenient to you e.g. in the evenings, a lunch break or during your child's nap time.
Depending on the chosen programme, you can expect to receive:
A programme tailored to suit your specific needs incorporating a structured learning journey which is about developing you and achieving the life you aspire to.
A variety of contact options with your coach to review and progress your learning as well as providing vital solutions, support and encouragement. Working together will ensure that you will achieve so much more than you would working alone.
Information, questions and clear step-by-step exercises that will enable you to apply your learning to your personal situation.
The motivation and support to progress you through your coaching experience, enabling you to start living the life you truly want to live.
By using our online coaching programme you will be able to:
Benefit from the depth of knowledge, expertise and transformational coaching offered by Empowering Mums at a lower fee than our telephone or face-to-face coaching.
Receive regular coaching responses from your personal coach that provide support, encouragement, useful tips and suggestions, helping you to set goals, find solutions and hold you accountable for achieving your action plans and your life-long aspirations.
Enjoy the flexibility of completing your coaching sessions at a time of day or night to suit you.
Access to your coaching sessions anywhere there is an internet connection, ensuring you can continue to make good progress. Whether you are visiting friends or relatives, away on business or going abroad on holiday, your coach will always be available to you.
Empowering Mums Online offers a FREE 7-day trial to enable you to look through the online coaching facility, try a session with one coaching response included and browse the online coaching programme options available before you decide to purchase a programme that meets your needs. You really have nothing to lose but everything to gain! In committing yourself to a period of coaching, you are making a valuable investment in the future quality and happiness of your life.
Check out the programme options available for Empowering Mums Online signature programme, Confidence, Balance and Joy, and access your FREE 7-day trial today and you can look forward to a successful and prosperous business!
Start your journey today – achieve confidence, balance and joy.