About Empowering Mumpreneurs
Empowering Mumpreneurs provides personalised business coaching packages tailored to meet the specific needs of all mums wanting to start up in business and mums who are already in business.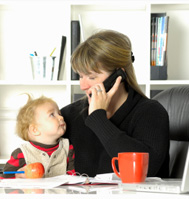 Since having a baby, mums often experience a period of reflection that produces a shift in their priorities. Often, mums find working for other people a challenging and inflexible experience. This can leave many mums feeling out of control as they have no power over the direction of their working life. This feeling is often compounded by the fact that so many mums have an entrepreneurial spirit as well as the skills and ideas to establish a successful business. Stay at home mums can also feel the need for something more and may like some additional income to meet their growing family and household needs.
This is why so many women are choosing to become mumpreneurs. It is worth noting in the UK, approximately 74% of women who established their own business did so before their child reached the age of two.
The Empowering Mumpreneurs mission is to support you to make a success of your business – whether it is in its initial ideas stage, its infancy or it requires some inspiration to improve its market share. We help all sorts of mums: single mums, mums of new babies, mums of toddlers, mums of teenagers, empty-nesters and mums-to-be. If you're a mum that needs business support, Empowering Mumpreneurs will help take your business from seed to success!
If you feel like this about your business or potential business idea, you should contact Empowering Mumpreneurs today for essential support:
"My idea is silly so I should forget about it."
"It just won't work because I can't…"
"I know my idea would work but I need a good sounding board to discuss its potential."
"I don't know how to write a business plan."
"I don't know how to go about marketing my business."
"What do I know about accounts, business or sales management?"
"I can't write or create a website to promote my business."
"I have come this far and I want more but I don't know how to expand my business further."
"I truly lack the confidence to give this a go."
"What if it doesn't work out? My fear of failure is preventing me from taking the first step."
"How will I manage being self-employed and looking after my family?"
"What if it consumes my time entirely and impacts on my family responsibilities?"
Let Empowering Mumpreneurs support you and your business every step of the way – contact us today.
Realising your business dreams – from seed to success.