Empowering Mumpreneurs | Online Coaching Options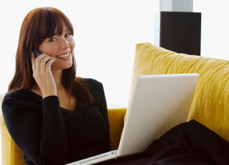 Empowering Mumpreneurs Online provides a choice of coaching programmes based around our signature programme - From Seed To Success. They are tailored to satisfy the needs of busy mums in business finding it difficult to commit to a set time in their schedule for 1-2-1 coaching sessions.
Our programme offers complete confidentiality and varying levels of access to suit your pocket, needs and your schedule - options available include self study, interactive online coaching and personal 1:1 coaching by telephone.
Depending on the chosen programme, you can expect to receive:
A programme tailored to suit your specific needs incorporating a structured learning journey which is about developing you and your business and achieving the success you aspire to.
A variety of contact options with your coach to review and progress your learning as well as providing vital solutions, support and encouragement. Working together will ensure that you will achieve so much more than you would working alone.
Lots of information, tools, questions and clear step-by-step exercises built into it, that will enable you to apply your learning to your personal and business situation, offering great value and flexibility.
Motivation and support to progress you through your coaching experience, enabling you to take your business from seed to success and to start living the life you truly want to live.
By using our online coaching programme you will be able to:
Benefit from the depth of knowledge, expertise and transformational coaching offered by Empowering Mumpreneurs at a lower fee than our telephone or face-to-face coaching.
Maintain regular contact with your own coach and receive regular support, encouragement, useful tips and suggestions, which will help you to set goals, find solutions and hold you accountable for achieving your action plans and your business aspirations.
Enjoy the flexibility of completing your coaching sessions at a time of day or night to suit you, in the evenings, on your lunch breaks, when the baby has gone down for a nap, using your personalised log in to work towards each session of your programme.
Set the pace of your own learning and you choose how to get help from your personal coach to apply that learning and ensure you really do make plans and take action that achieves progress and success at your pace and for the benefit of you and your business.
Have time to think through the questions in the programme before you answer. You might mull over a really good thought provoking question for a couple of days before you answer it; gaining far better insight than just an instant gut response.
Reach new levels of understanding and awareness as the programme guides you in greater depth in a more focused and controlled business direction with you at the helm. Use tools and strategies to help you understand and harness the implementation and growth of your business.
Write your responses down - the basic act of writing (or typing!) really helps you to clarify what you are doing and thinking. It's well known that by simply writing things down, rather than just thinking or talking about them, you're far more likely to achieve them.
Access your coaching notes in one accessible secure website so you can return to previous sessions again and again. A written record of your online communication with your coach is also a great tool to refer back to, to notice recurring themes and progress.
Access to your coaching sessions anywhere there is an Internet connection, ensuring you can continue to make good progress. Whether you are visiting friends or relatives, away on business or going abroad on holiday, your coach will always be available to you.
Empowering Mumpreneurs Online offers a FREE 7-day trial to enable you to look through sections of the online coaching facility, try a session with one coaching response included and browse the online coaching programme options available before you decide to purchase a programme that meets your specific needs. You really have nothing to lose but everything to gain!
In committing yourself to a period of coaching, you are making a valuable investment in the future quality and happiness of your life and the future success of your business.
Check out the programme options available for Empowering Mumpreneurs Online signature programme, From Seed To Success, and access your FREE 7-day trial today and you can look forward to a successful and prosperous business! Or, for further information about Empowering Mumpreneurs Online signature programme - From Seed To Success, click here
Realising your business dreams – from seed to success.