Empowering Mumpreneurs | From Seed to Success Programme
Who can benefit from this online coaching programme?
Our interactive online coaching programme – From Seed To Success - is intended for mums wanting to start their own business, who have an existing small business where results have reached a plateau and are in need of a boost, who want to enhance their knowledge, find solutions to the many obstacles in their way and make the best use of their time to develop their business to its full potential whilst managing to juggle their many other life roles.
We will help you overcome the fear, uncertainty and overwhelm so many mumpreneurs experience when starting up in business on their own. We will provide you with the strong starting point and with the foundations you need for continued growth in a forward thinking action focused support frame to help you keep account of your own success. By completing our From Seed To Success programme, you will:
No longer have to struggle through costly mistakes in setting up and establishing your own business
No need to feel guilty about not spending enough time with your precious family, missing key events and having to juggle your responsibilities
No longer experience information overwhelm, confusion with conflicting advice and spending hours on the internet researching
You will have everything you need at your fingertips, a one stop shop, and step by step journey to start up and grow your business, with strong foundations for great success.
Programme outline: what is included?
This interactive self study programme provides what you really need to know for business success built on strong foundations: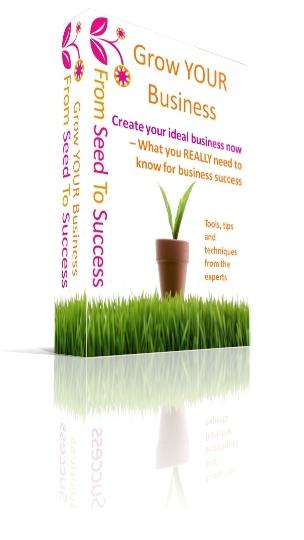 Establishing where you are now: personal and business
Business review & diagnostics
Overcoming fear, overwhelm and procrastination
Creating your ideal business
Clear vision and business strategy, to keep you on track
Your unique brand – how to stand out in the marketplace
Business basics – what you really need to know and have in place
Getting the numbers right helping you plan to achieve great success
Your ideal target market, and the solutions you offer them
Reaching your target audience, using great tried and tested marketing techniques
Conquering your sales gremlins
How to look after and keep your clients
Maintaining efficient records & systems
Making the most of your time
If you are looking to start up in business or grow your existing small business then you really can't afford not to invest in the From Seed To Success interactive online coaching programme.
Where else could you get so much great information, learning, coaching, tools, tips, tried and tested techniques, hear from the experts themselves on such a diverse range of key business aspects to starting up and running your own successful business, saving you both time, energy and money in the process and all in one easy to access programme for a little over a £1 a day? In comparison, it would cost far in excess of £1 each day and an immense amount of your valuable time to research and collate just a small proportion of the content of this programme.
We are committed to getting these strategies and tools for success into YOUR hands and we want to reach as many people as possible who actually need what we have to offer the most, are committed to starting up and running their own successful business and want to achieve their personal and business aspirations. So what are you waiting for?
For further information in the form of Q & A, our programme guarantee and a sample of testimonials from those delighted clients who have worked with us one-to-one through From Seed To Success, click here!
You already know this programme is for you

Realising your business dreams – from seed to success.